Amanda Knox is very concerned about projecting an image of innocence… even more so than her actual (argued) innocence. In a recent photo posted to twitter, Knox attempts to take control of her image by posting a "selfie" and including her own label: "Siamo innocenti"; or, "we are innocent."  The "we" includes co-accused Raffaele Sollecito.  Her photograph parallels an activist movement on twitter to free detained journalists in Egypt. Knox's choice of photograph seems deliberate- not only does Knox put a label on herself,  but by using a photo remarkably similar to another activist movement trying to free captured journalists, she attempts to connect her cause with that other imprisonment cause.
Knox's photograph appropriates a twitter movement to free Al-Jazeera and other journalists who have been detained and are awaiting trial in Egypt. Using the hashtag #FreeAJStaff, twitter users have posted black and white photographs holding up signs with the hashtag. The Egyptian government claims the journalists have ties to terrorist organizations (Al-Jazeera, Feb 2014). Many have criticized the action by Egypt to charge the journalists; the UN and a US congressman have spoken out against Egypt detaining the journalists (Al-Jazeera),  and an activists specializing in Egyptian rights criticizes the charges as a clampdown on the freedom of the press (Guardian, Jan 2014).
The selection of a photograph that is almost identical to photos from the #freeAJStaff movement is hardly a coincidence. Most of the photos are in black and white, on a basic background. The stark image emphasizes the black message on a white sign.  The people in the photos have a serious look. The primary difference with Knox's photo is the people in  the #freeAJStaff photos have tape over their mouths to signify the silencing of the press. The purpose of Knox's message is similar to the #freeAJstaff message- Knox's message is that she thinks that she too was wrongfully detained and is being unfairly persecuted, similar to the claims about the journalists in Egypt.
Knox is no stranger to connecting with other causes and benefiting from the publicity; she associated herself with recently freed Ryan Ferguson in the US. Ferguson had his conviction tossed by the Supreme Court in Missouri in the US, and was freed after ten years in jail. After Ferguson was freed, Knox and her friend Madison Paxton tweeted a photo of them holding up a sign saying "Welcome home Ryan!" (a photo significantly different in style from the #FreeAJStaff photos).  Ferguson claims to have read Knox's book in prison, and began speaking out in support of Knox. As a result, in the US, Knox has seen her name attached to news reports on Ferguson's "wrongful conviction." No doubt Knox's image in the US received a boost when the press published the headlines "Amanda Knox Confides in Ryan Ferguson, Who Was Wrongly Convicted of Murder" (ABC News and others, Jan 2014).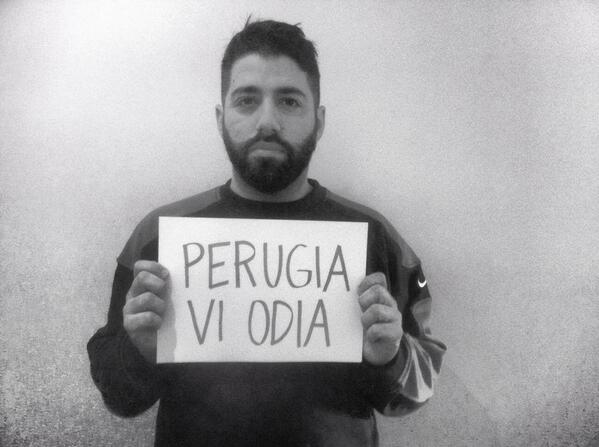 Knox's attempt to link herself to the #freeAJStaff cause seems to have backfired; her photo has spawned a meme, and many have reacted to send a message of their own. Many modify Knox's image to include their own messges, but ne poster took a photo of himself saying "Perugia vi odia",  translated to "Perugia hates you". An associated facebook group has now gathered over 1800 "likes" in the day it has been active.
The other purpose of Knox's photograph is an attempt to manage her own image. From the end of her first trial, Knox has spoken about the image that is "forced" upon her by the courts, by the charges, and by the conviction. She talks about the image of her as much as she talks about being innocent. At the end of the first level trial, Knox said in her closing statement:
"ho paura di avere una maschera di assassina forzata sulla mia pelle" -Amanda Knox
"I am scared of having the mask of an assassin forced onto me" (Translation, Huffington Post, 2009)
Clearly, the image of her innocence is important, maybe even more important than declaring her innocence. Knox's first interview after her release was in April 2013, with ABC's Diane Sawyer. Knox's interview with ABC came out at the same time the Italian Supreme Court overturned her conviction. She discussed her image and what she heard was said about her.   Knox's comments were in the interview published under the headline "I'd Like to Be Reconsidered as a Person," (ABC, April 2013):
"In an exclusive interview, Knox told ABC News' Diane Sawyer that while she'd heard the gist of the things circulated about her – "American temptress," "she-devil with an angel face," "heartless manipulator," "concertante of sex" and "sphinx of Perugia" – they were all wrong." (ABC, April 2013)
In another curiously timed interview, Knox discussed the conviction "marking" her as a criminal, and her reaction to that (Guardian, Feb 2014). As if the world didn't know enough about Knox, the Guardian published the interview "Who is Amanda Knox", furthering the attempt to manage the image.  The importance of image management was conveyed in the subtitle of the article: "American tells Guardian she has no escape from being marked as a criminal after re-conviction for murder of Meredith Kercher":
"but when I talked to you about feeling marked – being marked as an exoneree is one thing and being marked as a criminal is another. It hurts. It's not OK. People have been quiet and respectful, but it's like I've just been diagnosed with cancer. There's nowhere I can go where there's not this knowledge that I'm this girl who is convicted again. I'm never going to be OK with the idea that somebody can quote some judge's decision and say I'm a convicted murderer." -Amanda Knox (Guardian, Feb 2014)
The interviewer for the Guardian article specifically mentions Knox's PR representative David Marriott, who was  hired shortly after Knox was arrested.  The blog site Justice4Ever discusses the statements by Knox supporters about how her PR managed the media and her image following her initial appeal.
Clearly, Knox's twitter image was designed with two purposes in mind- connecting her cause with the cause of the #freeAJPress movement, and an attempt to put a label onto herself.  Neither goal has been reached.